December 2016 What a Mes?
Welcome to the January edition of What a Mes where most of us have been sweating-it, in the gym because what happens in December, unlike Santa Claus, doesn't always stay in diciembre.
We saw fog descend on Madrid mid-December like a scene from the film ´Silent Hill´ but luckily Madrid looked more like the horror film than the horror of 1950´s London where an estimated 4,000 people died when the fog mixed with smoke to create the deadly Pea Soup Fog.
Smog is dangerous and London had to bring in radical pollution controls in the aftermath.
Away from the horror, Christmas is a time to remember fantastic stories that focus on the bright and positive side of life. Like our fathers before us, we remember the ancient tale of a small boy, born in the desert to a virgin mother. In the sky there was a star as big as a moon, leading his destiny that offered hope to an entire empire where people to this day still religiously say the "your father."
If Star Wars isn't your thing than a similar but older Christian tale might have entertained you at Christmas time, as Jolly old Saint Nicolas squeezes down chimneys like they are a Death Star´s exhaust port. Wow, I am really buying into all the Star Wars merchandising. Illogical.
I hope you got all the goodies you wanted, and hopefully all you sci-fi fans finally got those Spocks you have been looking for. That´s right I said Spocks, socks that look like Mr Spock. Hopefully we will all live long and prosper in 2017 but like the passing of Lenoard Nimoy in 2015. Celebrity deaths have been quite the fad in 2016. We even lost another Leonard in 2016. Cohen not DiCaprio. DiCaprio is still trying to save the world and prevent climate change.
I guess his career has depended on icebergs.
Surviving 2016 has not been easy so no doubt you all shopped till you dropped, With four floors in the centre of Gran Via, You probably popped into Primark over Christmas. Festive jumpers, silly hats or something for the family, Primark has a lot to offer and at affordable prices too. In fact there is no reason not to quickly pop into Primark.
That is provided you don't park your car in the middle of Gran Via or park in a bus lane. A problem the government could easily clamp down on by simply not parking government cars in the bus lane. "Will the owner of an Audi A6 please return to El Congreso, the owner of an Audi A6."
Rolling out further congestion in December, Gran Via closed to traffic at weekends and further restrictions were introduced to reduce cars with either odd or even number, licence plates, from travelling into the city, every second day.
Don't worry elections are like buses, there will be another one in a minute even if service has been delayed.
The frustration of of not being able to park your odd registration numbered car, outside of Gran Via´s Primark, on even numbered days might be frustrating but remember the horror of the Great Smog of 1952 and the estimated 4,000 December deaths and the thousands more who died in the following weeks which later lead to the Clean Air Act in 1956.
60 years later, the Spanish government was forced to try save lives as the end of 2016 neared.
The destroyer of worlds Darth Vader made an appearance in memes as people commented about Lord Vader being unable to park his spaceship in Madrid because of the matricula. These memes included pictures of Vader, Stormtroopers and even Batman on the metro with similar captions. "El Batmovil tambien es par."
Worlds apart, despite the Storm Troopers you might see in Callao and four decades after the destruction of her world, Princess Leia of Alderaan, passed away, shortly after the release of Star Wars Episode Eight. Born in 1956, actress, writer and humorist Carrie Fisher joined the celebrity cast of 2016 and bowed out, like David Bowie. She was joined one day later by her celebrity mother Debbie Reynolds who famously liked, ´Singin in the Rain´.
When it rains it pours and even George Michael saw his ´Last Christmas´ in 2016.
Congratulations everyone else, you made it through December, Happy New Year. Stay safe.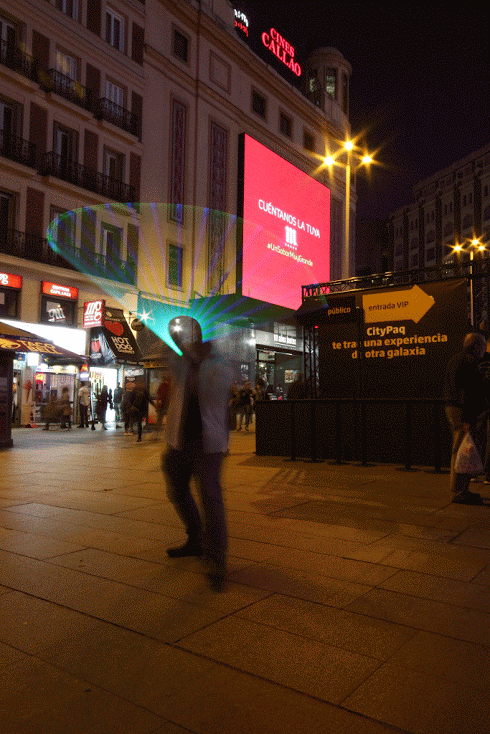 Borrowing a light sabre in Callao on May 4th, I cut quite an impression with my sword.