Updated: Nov 5, 2020
(Audio version played on Athlone Community Radio)
All the people, So many people, they all go hand in hand, hand in hand through their Parklife.
Know what I mean?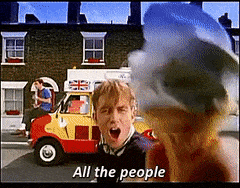 If you don't, then you probably don't recognise the chorus to Blur's 1994 classic song Parklife.
Throughout the strict lockdown in Spain, I have photographed children's empty playgrounds in my area as they were sealed off with police tape.
These innocent parks looked like a crime scene with the police tape wrapped around swings and slides and even after the lockdown, these playgrounds were sealed off as nearby bars and restaurants opened up.
In a horrible sense, these playgrounds could have been crime scenes if children, virtually immune to the dangers of dying from Coronavirus, managed to pass the virus to elderly or sick relatives.
I took pictures of these sad scenes of empty parks devoid of laughter and life and published one of these pictures in a newspaper in Ireland and made it the profile picture for my Lockdown Voices Facebook page. I can't imagine how damaging Coronavirus has been on child development as children have been deprived of hugs and affection from grandparents and family and friends.
Obviously, I won't be taking pictures of children playing in park as parents would call the police but even as I went shopping during the strict lockdown and took pictures of the empty Spanish streets, I knew the police would question why I was out on the streets taking pictures of swings and slides wrapped in police tape if I didn't quickly hurry home.
We are allowed out again and such a difference a few weeks and months can make and just like the classic song Parklife, from a quarter of a century ago, these images will hopefully soon become all but a Blur.
Last week as I tried to "cut down on (my) porklife and get some exercise" I pointed out to my girlfriend that the parks were open again and full of life. In was a wonderful sight, just in front of Palacio Real in the centre of Madrid and there must have been 30 to 40 kids playing with their young siblings in the sun and I was so happy to see "All the people, so many people, going hand in hand, hand in hand through their parklife"
Know what I mean?
FOR THE BIRDS: Pigeons love a bit of the empty Parklife as bars and restaurants reopened.