The Bear, the Witch and my Wardrobe
Updated: Apr 6, 2019
It's all Hallows' eve soon, a scary time when I have to choose what the Hell to wear. I have won two Best Dressed Awards in my life, one for Halloween and one for a Dragon Boat race where I was dressed as a pirate on the River Shannon and to my surprise, there was a Best Dressed prize.
I will dress up at any possible excuse which might explain why I was asked to be the Madrid Harps' mascot. Even dressed as a bear, I will try mix things up a little with Morgybear wearing a santa hat or wearing another team's jersey.
CAPTAIN MORGAN has made a few appearances in bars in Athlone, on the River Shannon and even sailing the Mediterranean where a patch and skull cap made everyone smile.
I don't have captain's licence unlike some of my friends but I am full of rum so Morgan Spice has made a few heroic appearances over the years.
A friend with zombie contact lens was possibly drugged one night in Athlone leaving me to carry my friend around Karma like I was Kevin Costner in the Bodyguard and he was dressed as a pirate.
The ambulance crew had a scary time checking my friend when they checked her vitals and looked at her eyes. I had to reassure them that she was wearing bloodshot Zombie contacts.
She was fine but it wasn't the first time Captain Morgybear had to leap into action.
In 2003, a friend was organising a charity event in Scribes Bar to fundraise for disadvantaged kids to visit Dublin Zoo. He was in a panic and had nothing organised.
I told him to shut up and get some coffee with me, at the college canteen I talked lecturers and staff out of €110 when they went to the coffee machine. Feeling like a Superhero, I drove to Athlone Joke Shop and picked out my costume, seeing that it was a fundraising event for Dublin Zoo, Morgybear was born and that's my backstory.
Fast forward to Halloween the following year and Morgybear reappeared but the costume was quickly removed when Eoin Kiveney drove me into town and we saw some Rugby players pick up a petite girl and drag her into the bushes by Valley Court's phone boxes.
Sheriff Kiveney stripped out of the lawman suit and I took off my bear costume after driving around to where the laneway ends. While it might be better to jump out of the bushes dressed as a bear, in the end the group appeared all together with the girl on top of her boyfriend's shoulders.
GETTING AROUND: Just like Al Pacino in The Devil's Advocate, I have got a few looks on the Metro and when I arrived at my hostel without the devil's outfit, a concerned receptionist started asking me what had happened as I was covered in blood.
BEST DRESSED:
Karma nightclub had organised a massive
Make-a-Wish charity event in 2005 and I was attending the event for the Athlone Voice newspaper. The Oscars themed ball was rumoured to be attended by Colin Farrell who was attending the same event in Karma Galway but I certainly wanted to make an impression. Dressed in a creme coloured suit and black shirt, I thought I was a contender for Best Dressed but the award went to a friend who was drinking with the celebrity judge beforehand.
At least I got to meet Miss Ireland.
UNLUCKY that time, I did win Best Dressed at a Dragon Boat event when I returned to Athlone from living in Dublin and had a pirate costume sticking out from my belongings.
I wore the costume for fun and later found out while talking to Timmy from Sean's Bar later that day, he told me that there was a Best Dressed category that had not been promoted.
My first year in college also saw an award as a few friends spent a small fortune on costumes where as I had put on a wetsuit and dressed as a drunken diver. Goldsmiths' Tavern appreciated the homemade effort and so did some of Athlone Sub Aqua members who I met out that night. One girl loved the costume so much and wanted to take me home but fearing the walk of shame in a freaking wetsuit, I had to decline her naughty invitation. In my last year in college, I was dressed as Julius Cesar so I guess I was asking to be stabbed in the back.
One year I overheard some friends talking about a Hollywood party and I suggested James Bond as one friend had an Aston Martin DB9, they laughed as they had said Halloween party and not Hollywood but since you don't need a scary costume for Halloween, I still suggested Bond James Bond. My friend agreed to give me the car as a costume prop thinking it was ridiculous to dress as Bond for Halloween. The joke would have been on me as I stood out of the Bond car but that party never happened. So used to having a hook for a hand, Captain Morgan would have loved to have stepped out as Commander Bond for a change.
There is a cape shop near my house where Michael Jackson and Hillary Clinton have both bought clothes but I prefer less exclusive capes and clothes and buy mine in Chinos.
I have even dressed as the occasional leprechaun over the years.
Bloomsday 2017 and I thought I would wear a patch like James Joyce.
Harppy Christmas Madrid Harps, watch out for Morgybear under the tree.
Do I make you horny?
Happy Krampus everyone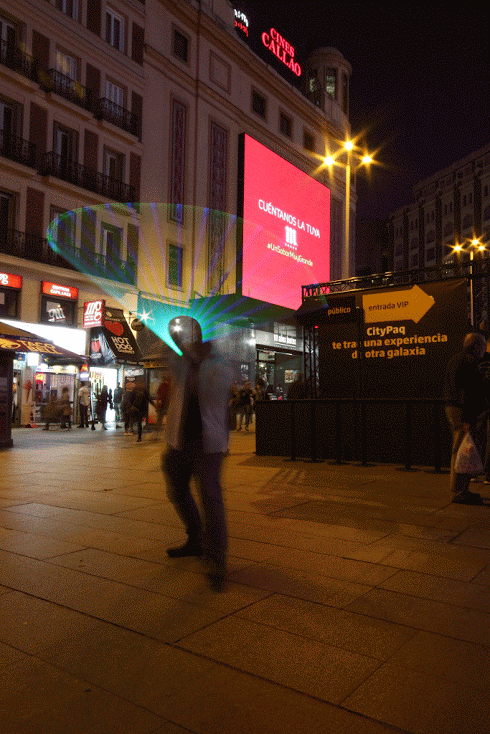 Looking at the lighter side. Luke I like your lightsaber.
Miss Ireland, my editor Angela Madden and Sarah Kiernan at the Karma Oscar Night.
Morgan Spicy well Chile anyways
My friend Kimberley is always dressed like a vampire
Oh behalf
Devilish